Feb. 4 was little Code's birthday. I didn't plan anything...we kind of wanted to take the kids skiing but then Justin got a side job framing so we postponed. At the last minute I called up Emily and her kids to meet us at Jump On It. It was pretty fun and next time I may have to join the "extreme mom aerobic jumping class" they have. Seriously, they really have that. It actually looks kind of fun.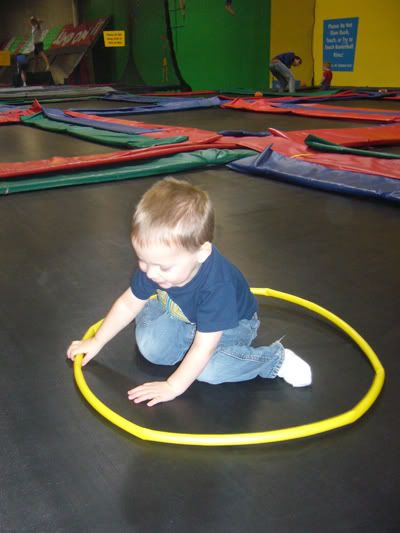 After, I found out my dad and uncle Karl were at Ripples eating lunch so we met up with them. All in all, a pretty great day for a 2 year old!
Cody's loves:
Telling me to "Get" things; Get Ball, Get Toast, Get BaBa, Get Shoes, etc.
Playing basketball.
Sucking on his finger.
His lambie and duck.
Exploring outside while holding either a toy broom or a ski pole so that he can stick things.
Trying on his sister's shoes, especially her pink and purple moon boots.
The book, There's a Mouse About the House.
And here is a cute little clip of Cody's latest success. I have been trying to teach him how to climb out of his crib for a week or so, and on this morning Ellie was a sweetie and helped him. Now, instead of having to get up at the crack of dawn (8:00 am), get Cody out of his crib, and climb back into bed (so hard!), he can get himself out and I can finish my 10 hrs of sleepy time. Haha, no I don't always sleep in like that, just some/most days - it's just so dark and cold out there!