I love Valentines! And I just realized something. Justin has been my valentine every year since I was 17. Even when I was dating other guys in college I would make up excuses to get out of a Valentine date with them because when it came down to it, I always loved Justin the most. The only date a remember though was when we got Chinese takeout, and then after dinner we did landscape paintings with oils. We had so much fun but I also remember that I gave the painting I did I gave to the other guy I was dating the next day. Wow, I was not a very nice girl.
Anyway. This year was pretty simple. We were in St. George for Valentines Day and I got the flu that night so not too romantic. Justin bought me heart wrapping paper from Target which I LOVED! I am easy to please. I didn't get him anything but some smooches.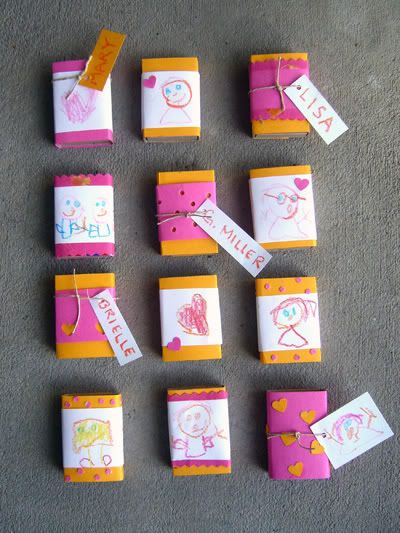 Ellie and I made these cute matchbox valentines for her friends, the idea was from
inchmark
. I love this blog, everything this girl does is exactly my style. My favorites are Molly's with the glasses and Taj's who I guess reminds Ellie of Spongebob.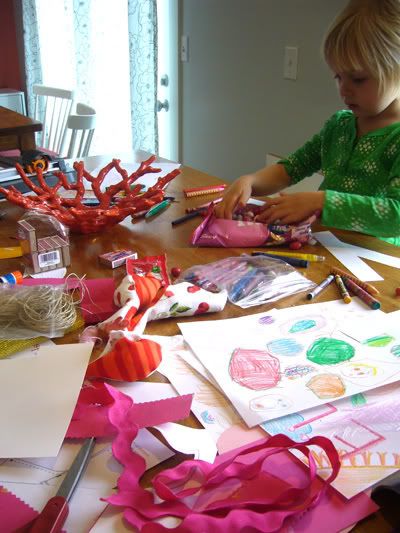 You can see on the table some fabric birds I tried to make but the heads looked scary. Birds can easily looks scary and so I only made two, I'm not sure what I was going to do with them anyway.
My only decorations. Three pictures of Ellie and Cody fromt the last 3 years. I love that the pinks and blues on the table match the pinks and blues in the painting.
Jessica, my cousin in law, did an amazing Valentine craft night at her house. I kept everything I made because it was too cute to give away!