One thing I like about our summers away from home is that I think I bit differently when it comes to buying things. I know that there won't be any room to take anything new back home, so we are a little more creative with toys and such. We go to garage sales to find bikes or toys, or just make it. Something I never even think to do at home.
Translation at the end:
"I have the paper for you to color...is that what you do at the store?"
(Later I found out that meant she had a paper for me to sign my name as if I had used a credit card).
"It's right here, in my pocket...click it! No click it, so I can watch the movie" Love her expression at the end - she does this a lot but I've never captured it on camera.
When it's warm we move the whole thing onto the deck.
I give her all our empty cereal boxes and cans. I guess we did learn something useful at Earth Day!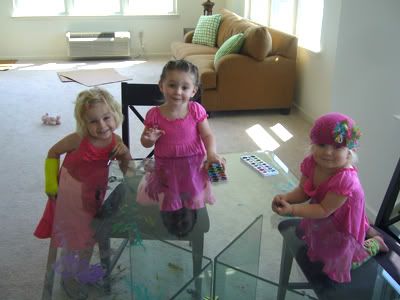 Another cheap way to entertain the kids, let them watercolor right on the table!
These are our new friends Harley and Aleighsha (sp). Harley has been so much fun to have over to play almost every other day. The girls love to run all over the apartment while Cody chases them and roars.
The kids room. Sometimes they sleep together, unless Cody won't stop getting out of bed, then he goes in the playpen. Last year I went a little
nutso
decorating their room. I kept the pillows and white bedspread but simplified the rest. Wierd but I like these summer rooms almost as much as their room back home, just in a different way. I love all white rooms with a titch of blue.