This weekend Justin accomplished a goal he has had for almost 10 years - to run a marathon. He did so well and made it look easy! I know because I road my bike by him the last 13 miles. He did 20 min better the last half than the first half which is pretty amazing considering his longest run ever was 18 miles and that was over 2 months ago. He really hasn't run very much or long for over a month so to finish in 3:40 and feel as good as he did is pretty dang good I think. It was wierd for me to be at a race and not be participating but Justin is always the one to pull the kids around and cheer me on so it was fun to so the same for him.
The race started about 2 blocks down the boardwalk from our apartments. I took this picture looking towards the finish about halfway to where the last of the runners were lined up. I think there were 10,000 runners. Some of them were doing a 1/2 marathon and some a marathon relay.
Packed in like sardines. Justin said for the first 2 miles he had to walk a ton just because there was no room to run.
Ha ha - Just asked me if I was going to blackmail him with a picture of him in this kids size small jacket I got for free the day before. Heck ya I will!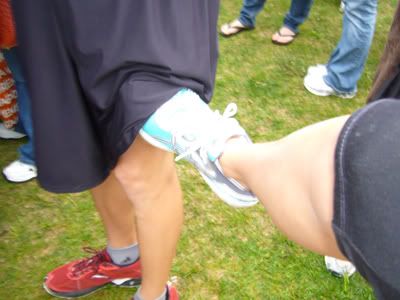 A quick check for
running garments.
All clear!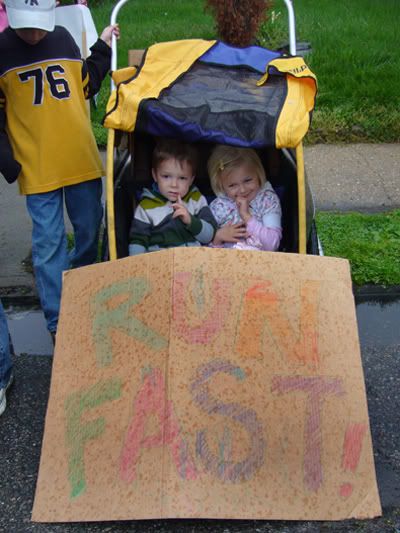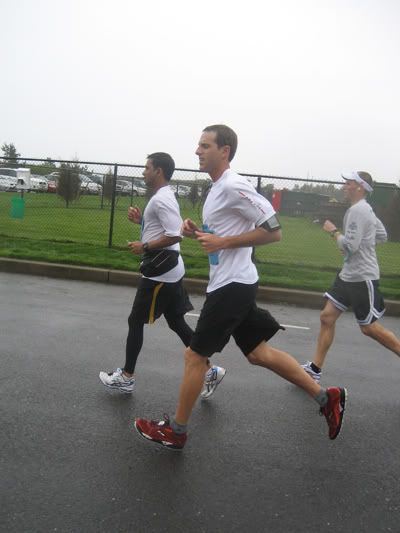 I did about 5 video interviews with him during the race. Only at mile 25.5 did he finally decided that selling was easier.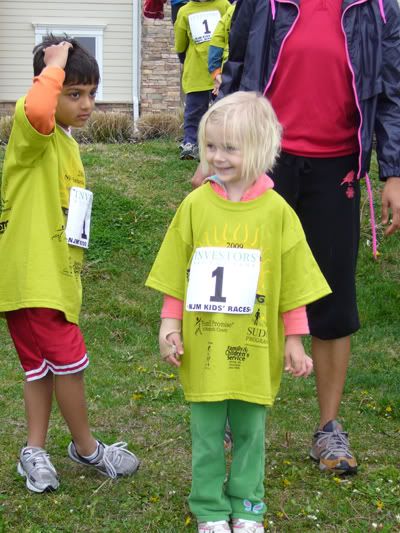 The day before the race there was a kids race expo with frisbee catching dogs, a fun bus, a funny music man, crafts and a kids race. Ellie was so excited but pretty concerned because she wanted to win the race.
As you can see, she didn't win, but was very excited about the medal she won (leftover medals from last years race). Now we have her and Justin's medals hanging together on our wall. Good job my cute little family!