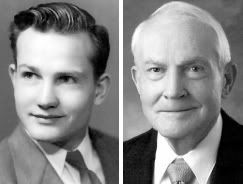 My grandpa (mom's dad) passed away August 20, the day after I got back to Utah. I had meant to go see him that day and my dad and I were at Costco when we found out. He was suffering so we were glad he could be free from pain. The funeral was wonderful. My cousin Sarah, pictured, is the youngest grandchild and had a special bond with grandpa - stronger than I realized. She read a letter she had written him when she left for college and it was so sweet. My uncle John spoke as well and talked about life as a farmer. My grandpa struggled in this life and I hope he is feeling peace now.
Chocolate (stress relief) and the newest member of the Grandpa's legacy.
Obituary:
Lowell Edward Bagley 1924 ~ 2011 Lowell Edward Bagley, 87, of Annabella and Orem, Utah, passed away on Saturday, August 20, 2011 in American Fork, Utah. He was born in Koosharem, Utah on April 16, 1924, to Edward Merrill and Ruby Arminta Olsen Bagley. He married Aleith Anderson on February 9, 1946 in Richfield Utah and their marriage was later solemnized in the Manti LDS Temple. Lowell attended CSU, U of U, USU and BYU. He served valiantly in World War II as Sergeant Company K 11th Infantry 5th Division 3rd Army and among many other honors and medals was awarded the Silver Star. His family is so proud of his service to his country He loved and respected the beauties of nature and was very mindful of caring for and protecting this earth and it's resources. Lowell is survived by his wife and their six children: John Edward Bagley and Phyllis, Koosharem, Anne and Michael Morrey, Orem, Renee and Karl Thomas, Provo, Mignon and Kent Nicol, Orem, Marian Castleberry, Orem and Lisa Elaine Bagley, Orem. He has 14 grandchildren, 25 great-grand-children, and one great-great granddaughter. Lowell was a wonderful grandfather. He is also survived by his sister Melva Harward, Salem, brother, Jay Merrill and Devonna Bagley, Logan, and sister Carolyn and Howard Edwards, Park City. He was preceded in death by his parents, his sisters Elaine Bagley and Fern Jeanette Johnson and his brother Dr. Lell O. Bagley. Lowell's family and friends will honor him with a visitation from 7-9 p.m. on Friday, August 26th at the Sundberg Olpin Mortuary, 495 South State Street, Orem, and also a funeral on Saturday, August , 27th at 1 p.m. with a visitation beginning at 11:30 a.m. at the Suncrest 5th Ward Chapel at 130 North 400 West in Orem. Lowell will be laid to rest in the Orem City Cemetery 1520 North 800 East with military honors. His family is thankful for the special times we had with him and for his examples of hard work, honesty and generosity. We are very grateful he is no longer suffering and we look forward to being with him again. The family would also like to express heartfelt appreciation for the care and kindnesses shown to him by the Smedleys and the Staff of the Beehive Home of American Fork South. Condolences may be sent to the family at www.SundbergOlpinMortuary.com.