Cody drives me nuts for lots of reasons. First, his cheeks are so squishy and tempting but I can't eat them. Also he pulls out the pebbles from the fireplace and scatters them throughout the house multiple times a day. He also thinks he can survive on milk, cookies and crackers. So in an attempt to fix the last problem, I've replaced milk with soy and then a couple days ago I magically came upon
this girls post
which I belive has saved us. One of the best things about blogs and "mommy blogs" in particular is that we can share what works and help eachother out. It's like a big virtual support group.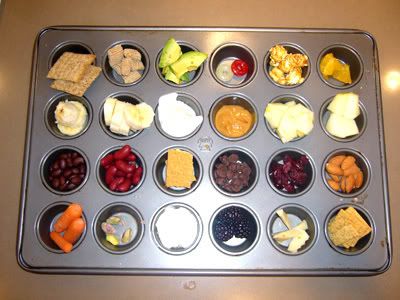 Ellie's tray. She is a good eater anyway but she just died over this.
Cody also gets to eat this in the barstool which he thinks is pretty cool. Usually he eats in a little booster on the floor (sad for him but less messy).
Another great idea on this girls blog is to blend up spinach with a little water and then freeze it in cubes. I threw a couple green cubes in our berry/yogurt shake this morning and you would never know.
Well, I must be pretty excited about this because we just got back from Cancun but I'd rather post about snack trays than the beach!