Saturday the girls went to New York while Justin worked (sad) and Lew took Cody to the racetrack by our house. I think Lew had the most fun!
Outside MOMA - I wanted to go in their giftshop but it was closed.
American Girl Store
M&M World. Ellie dissapeared for a moment and I found her sitting on this ledge, eating her M&M's, looking down on Broadway.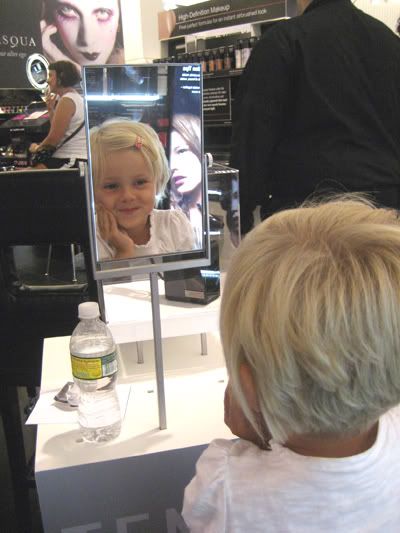 Sephora. I think this was one of Ellie's favorites.
Waiting for the girls outside Macy's.
Chasing the pigeons.
We also saw Mary Poppins and it was sooo good. There is one wierd part where the toys come to life and scare the kids. But the costumes, scenery and acting were so fun. Ellie loved when Mary Poppins flew over the audience, when Bert walked up the wall and across the ceiling and when the bad nanny dissapeared.
Thank you for such a fun day Jann! She paid for everything from the train ride to lunch to the play. It was a day I will never forget!