Well, I finally did another triathlon! I was so so nervous because my last tri was in 2005. Ellie was 4 months old and hello - what was I thinking? I have been scared to do another one ever since. But this is my first summer in four years that I haven't been pregnant or nursing so I figured I better do something to celebrate. This sprint tri was an all women race and it raised money for Ovarian Cancer research which is why I chose to do it (Justin's mom was diagnosed with this cancer last October). I started training about a month before so I was pleased that I got at least 25 out of 212 in my division. I can't wait to do another one because I know there are so many things I could change that would help my time.
Anyway, it was a great day and my "
fan base
" was there to cheer me on which was awesome.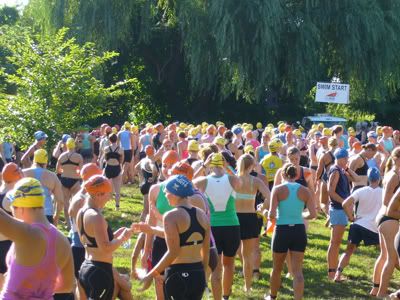 I'm somewhere in this picture. My age group was the second to last wave which means I didn't even start until the first woman had finished! It was kind of fun to start in the back though because I got to pass a lot on the bike which made me feel fast even if I wasn't.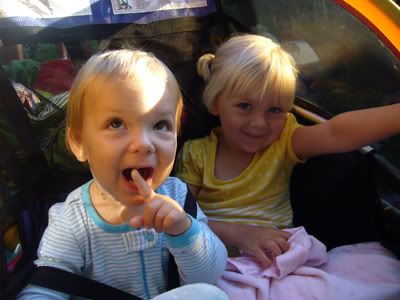 My fans. We got them out of bed at 6:00am.
I'm standing here because with 1/2 mile left in the bike I hit a pothole and my seat fell all the way down. I'm so lucky it didn't fall down until the end because I didn't have any tools.
You can't beat this welcome.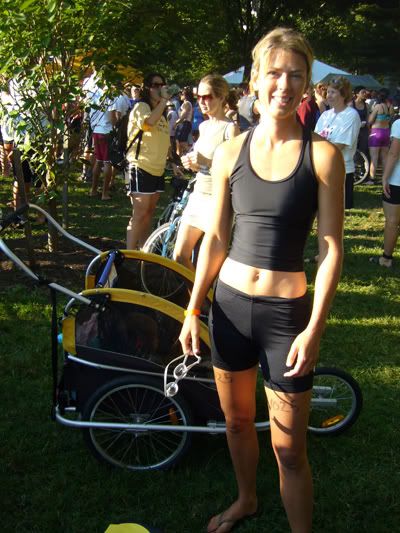 And thanks Kami (our cousin) for all the advice and moral support via email! She is an amazing athlete and actual wins her races! Imagine that!