Last Saturday was my birfday and I had planned on doing a triathlon but since the weather was forcast to be so crummy and cold I had kind of bagged it thinking it would be canceled anyway. Well, saturday morning, Justin dragged me out of bed telling me things like "you'll wish you had." My mom came over to tend the kids and we drove over to A.F. The race was not canceled and I am glad I did it because I got second in my age group, and I bet I could have won but I was having wardrobe dilema's because I couldn't decided what to wear during transition, and wore way too much. Anyway, I am glad I did it and since it was so rainy and cold the race directors basically said anything goes so Justin was right there in the transition area cheering me on and he also did the run with me which helped a ton.
Why am I wearing sweats in the rain?
What form removing my sweats though.
My area looks like my closet does when I'm trying to decide what to wear. What a piggy!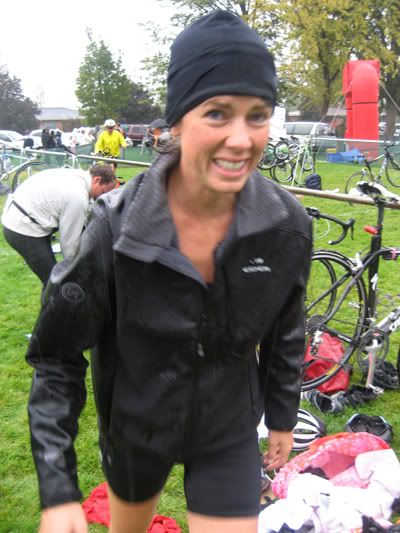 Off to run in a huge wet jacket! Justin ended up carrying my jacket for me.