This summer I feel like I finally found my "food groove." I made dinner pretty much every night which means I cooked more this summer than the entire 6 six years previous combined. These four meals get through most days. I love them because they use similar ingredients, are fast, fresh and yummo!
First up, brown a corn tortilla on the stove, add pepper jack cheese and black beans. Then top with fresh corn and fresh tomatoes. I eat this about 5 days a week. Ellie loves them too and Cody won't eat anything at the moment so I decided to just let him starve and cook what I want.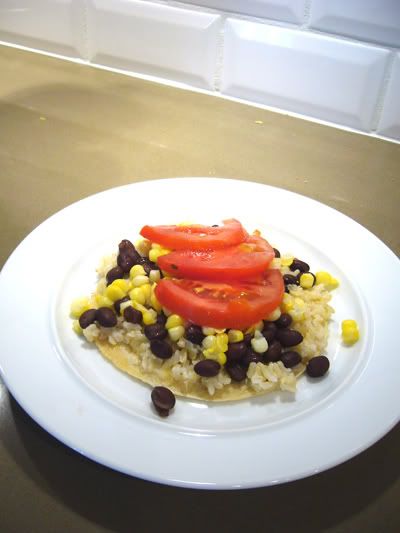 Next, is similar to the one above, but all the cheese and veggies go on top of brown rice instead. I love this one too because I use garlic and onion, and pretty much any vegetable I have in the fridge so it's good to get ride of random veggies like squash or zuchinni.
I think this stuff is called Chow Mein? Just pull out frozen veggies and stir fry them a little, add a few eggs and scramble and then stir in brown rice. Salt n' Pepper and enjoy. Cody actually will eat this, amazing.
My kids fav - line a cookie sheet with tin foil, brush strips of sweet potato with olive oil and sprinkle coarse salt and pepper. Bake at 400 for about 25 min. My kids go nuts over these.
And I just realized these are all vegetarian. I'm not vegetarian but I like the fact that I don't have to eat meat at every meal to feel satisfied.