Last weekend was the last of our series of mini trips we've been on since coming home in September. Now I'm ready and excited to just stay home and be snuggly and do crafty things (or at least think about doing them).
We went to moab with Matt and Jess (Justin's cousin), and a couple single and hilarious guys that sold with Justin this summer, Brandon and Jesse. We camped and climbed and biked and ate really good food.
Note the sweet bike on the left. Jesse's Wal-Mart special probably made the 10 mile trail feel more like 30 miles. I'm not going to lie I probably would have made it 5 miles on that bike before throwing it off a cliff. I was pretty impressed, everyone did so well.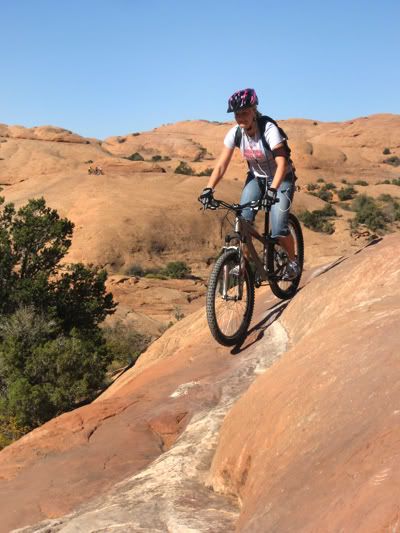 Jess is a natural - not scared of anything! Yes that is a cliff on her right. So hurry and get a bike Jess so we can go more!
I stole this pic from moabactionshots.com but am admitting it so don't worry about it.
Love this pic. I totally want to make out with Justin when we go biking together and he shows his cleavage like that.
We also pretened to be climbers - we were a little rusty but it was still fun.
Amasa Back - our favorite. We turned around early because the sun went down but it was just georgeous.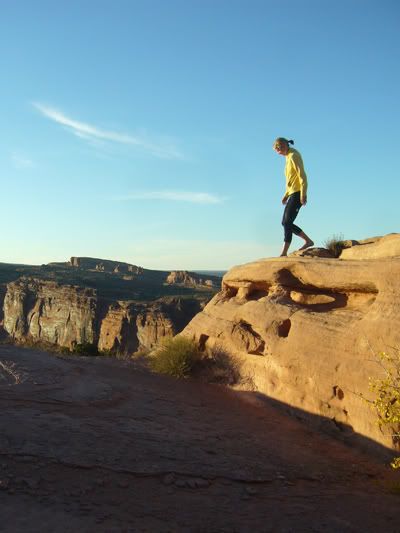 I stopped earlier than the guys because the view was so amazing and it was so quiet I just wanted to be alone for a bit. I hiked up on a rock and just layed in the warm sun. I love being by myself in the middle of nowhere. I used to do it a lot before getting married and I need to do it more.
Trying to be a Yogi. It's not quite as relaxing as it looks in calendar pictures.