This is what was happening while I went to the temple this morning:
Cody made a peanut butter and jelly sandwich out of our living room. These pictures do not do the mess justice. There was peanut butter on every window sill...added after he colored on the sills and walls. PB on the back of the entire couch. Jam on the other two chairs in the room, the carpet and various toys. This, just days after getting a hold of orange juice and spilling it over the kids lamb skin rug and the carpet, and a week after spraying clorox bleach on the ottoman (you can barely see orange dots in the picture). This kid is naughty to put it mildly. Ellie never did anything naughty, so I got used to being able to leave cleaners and markers within reach. My bad. The hardest part about it is that Cody just has this thing about him that makes me want to squeeze him even when I am so mad, he just melts our hearts. I mean, just look at him!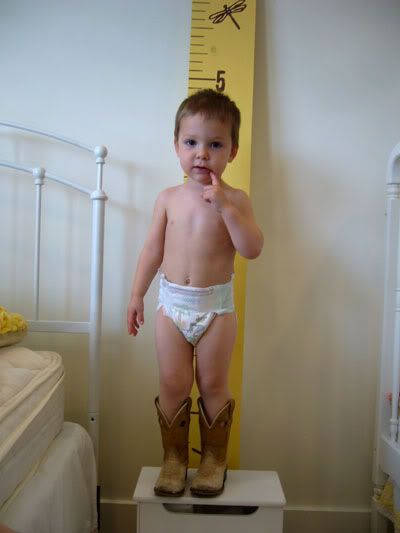 (wearing Justin's old boots!) I called my mom to tell her about it and she said, "Can you just imagine how much fun he had!" It's true, he probably thought this was the best day ever.
I guess I should explain who was tending. Justin was, but he was in the office working and thought they were watching a movie. A $100 lesson learned (carpet cleaners).